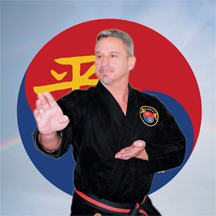 Master Keith J Bennett
Director KBKA Pyung Ahn Do
Kwan Jang Nim Keith Bennett is the Owner and Director of KBKA Pyung Ahn Do. Kwan Jang Nim Bennett is a 7th degree Master in the Martial Arts and has a PhD in Martial Arts Studies. He has studied the martial arts since 1976 and holds belts in multiple styles. He is a senior master in the Martial Arts world. He wishes it to be made very clear that he is does not hold the role of Grand Master, which can be inferred by the title Kwan Jang Nim. The title Kwan Jang Nim indicates that he is the owner/president of our organization and style.
KJN Bennett trained under and received his Master Certificate and Belt from Grand Master Hwang Kee in 1995. KJN Bennett was promoted to 6th Dan by Grandmaster H. C. Hwang in 2006. In 2013 he tested for and was promoted to the rank of Chil Dan (7th degree master) under Grand Master Dominick Giacobbe , International Tang Soo Do Organization.
In 2010 KJN Bennett returned his school to the original philosophies of Tang Soo Do and created his own style under the name of Pyung Ahn Do . He has combined his own philosophy with those of traditional Korean Martial Arts. He continues to lead our school through its evolution. Under his guidance thousands of students have been shown the benefits of Martial Arts and thousand more in the community have been helped through his generosity and the fund raising efforts. Voted #1 Best Karate School in Ulster County by Daily Freeman and DailyFreeman.com readers. In 2008 KJN was inducted into the USA Hall of Fame.

KJN Bennett is also a licensed Massage Therapist focusing on relaxation and healing techniques. Appointments can be made by calling the school at 845-331-0009. In addition he is an ordained Chaplain under Chaplain Fellowship Ministries with a focus on our Military Veterans.